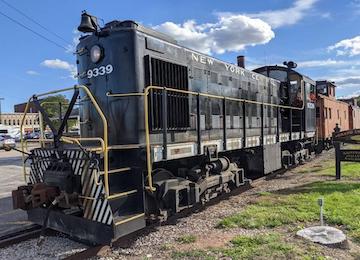 Have you ever wondered what it's like to work on a railroad
and be part of a train crew?
Volunteer
Here's your chance to take a hands-on training course to become a train crew member at the Whitewater Valley Railroad. Classes are held on six successive Saturdays beginning on Sat, Feb 18, 2023, and ending on Sat, Mar 25, 2023, from 9:00 AM until 4:00 PM. Students who complete the course and pass the required safety and rules tests are eligible to begin train service as student brakemen. Classes combine classroom instruction and hands-on outdoor activities with full-size railroad equipment.
Topics covered in the classroom portion include:
history of the Whitewater Valley Railroad
railroad safety
train operations including rules, signaling, and train orders
air brakes and the technology behind fail-safe operations
steam locomotive basics
diesel locomotive basics
duties and responsibilities of train crew members
volunteer opportunities at the Whitewater Valley Railroad
The outdoor activities will include:
railroad safety
hand signals and radio communications
operation of switches
coupling and uncoupling
connecting air hoses
journal box inspections and maintenance
assembling a train and preparing it for departure
operating one of the railroad's historic diesel locomotives
The course costs $50 per student and includes a one-year railroad membership and all course materials. Participants must be 18 or over and able to understand and follow instructions. Classes are held at the railroad's South Connersville Shop and Yard located at 399 S Eastern Ave in Connersville. Dress for the weather - outdoor activities take place rain or shine.
Register for the class and pay fee Here.
For more information email us at trainingclass@whitewatervalleyrr.org or call us at (765) 825-2054.
Not interested in train service? Contact our volunteer coordinator at volunteer@whitewatervalleyrr.org. We will be happy to discuss other volunteer opportunities at the Whitewater Valley Railroad that may suit your interests and skills.
The Whitewater Valley Railroad does not and shall not discriminate based on race, sex, color, religion (creed), gender, gender expression, age, national origin (ancestry), disability, marital status, sexual orientation, or military status, in any of its activities or operations. These activities include but are not limited to hiring and firing staff, selection of volunteers and vendors, and provision of services. We are committed to providing an inclusive and welcoming environment for all members of our staff, volunteers, subcontractors, vendors, and clients.