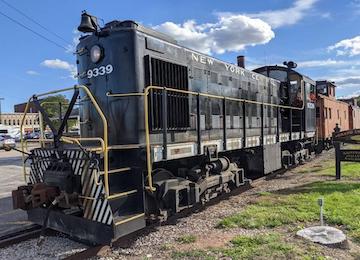 Have you ever wondered what it's like to work on a railroad
and be part of a train crew?
Learn
This is your chance to take a hands-on class which leads to becoming an operating crew member at the Whitewater Valley Railroad. The classes are held on six successive Saturdays beginning on Sat, Feb 19, 2022, and ending on Sat, Mar 26, 2022. Those who successfully complete the class will receive a certificate of completion and be promoted to student brakemen. The classes are a combination of classroom instruction and hands-on outdoor activities with full-size railroad equipment.
Topics covered in the classroom portion include:
history of the Whitewater Valley Railroad
railroad safety
train operations including rules, signaling, and train orders
air brakes and the technology behind fail-safe operations
steam locomotive basics
diesel locomotive basics
duties and responsibilities of train crew members
volunteer opportunities at the Whitewater Valley Railroad
The outdoor activities will include:
railroad safety
hand signals and radio communications
operation of switches
coupling and uncoupling
connecting air hoses
journal box inspections and maintenance
assembling a train and preparing it for departure
operating one of the railroad's historic diesel locomotives
All classes take place at the railroad's South Connersville Yard and Shop located at 399 South Eastern Avenue in Connersville, Indiana. They will start at 9:01 am each Saturday and last until at least 3:00 pm. There is a charge of $50 per student which includes a one year membership to the railroad and all class materials. There is also a suggested donation of $5 for the meal that will be served during the lunch break. Participants must be 18 or over and be able to understand and follow instructions. Dress for the weather - the outdoor activities will take place rain or shine.

Register for the class and pay fee Here

For more information email us at trainingclass@whitewatervalleyrr.org

or call us at (765) 825-2054.